Demystifying IDP: 52 Definitions in the Context of Intelligent Document Processing 4/4 – Industries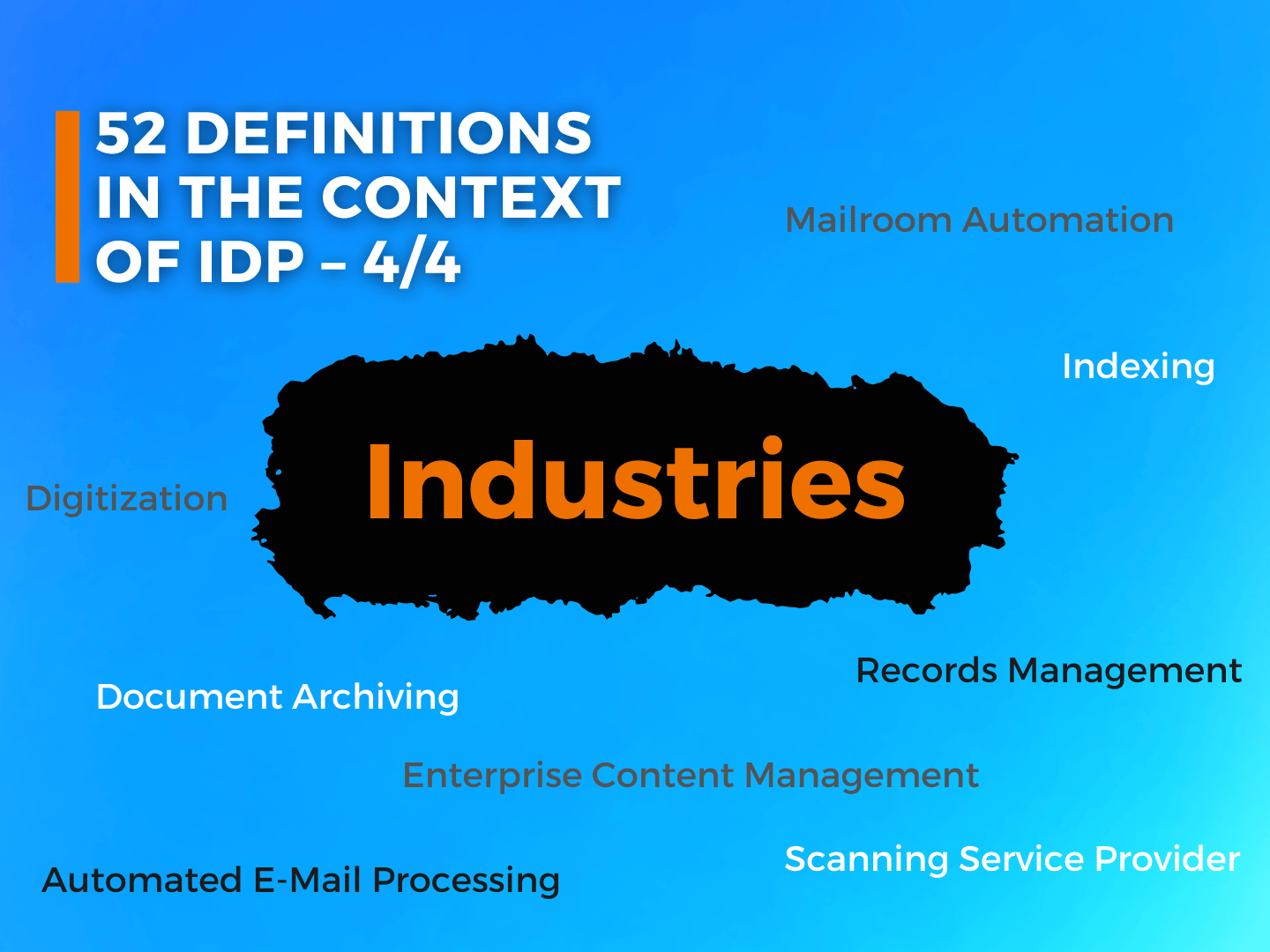 Welcome to the final part of our 4-part blog series titled "52 Definitions in the IDP Context."
In the previous parts of this series, we dived into the metrics (1), technology (2), and deployment (3) aspects that make Intelligent Document Processing (IDP) such a game-changer in the realm of document processing. Now, in Part 4, we're shifting our focus to explore the diverse industries where IDP is making a significant impact.
Join us as we navigate through the various sectors that have embraced IDP to streamline their document management processes, enhance efficiency, and unlock new possibilities. We'll uncover how IDP solutions are transforming workflows and revolutionizing the way businesses operate.
Automated E-Mail Processing
Automated E-Mail Processing encompasses the use of automation techniques and technologies, including artificial intelligence (AI), to process and manage emails efficiently.
Digitization
Digitization refers to the process of converting analog or physical information into a digital format. It involves the conversion of various types of data, such as text, images, audio, video, or other forms of analog content, into digital representations that can be stored, manipulated, and transmitted using computers and digital systems.
Document Archiving
Document Archiving involves placing inactive documents into long-term storage in any data medium, allowing these documents to be readily available at a moment's notice. In addition to providing easy retrieval for older documents, document archiving provides security and legal protections to ensure all documentation is accounted for. Document archiving can be one step of records management or general digitization inititatives.
Enterprise Content Management (ECM)
ECM is used to create, store, distribute, discover, archive and manage unstructured content (such as scanned documents, email, reports, medical images and office documents) and ultimately analyze usage to enable organizations to deliver relevant content to users where and when they need it.
Common synonymes are content services, digital document management, and intelligent information management.
Indexing
Document Indexing is the process that tags documents with certain attributes or labels that can later be efficiently searched through and retrieved. For instance, a company might index documents by client name, customer number, date, employee name, or other key traits that could be relevant later. It's a critical part of the foundation upon which enterprise document management systems are built. Types include: full-text indexing, automated indexing (using data variables or field data), metadata indexing.
Mailroom Automation
Mailroom automation typically refers to the process of automating physical mail handling and sorting in an organization. It involves using technologies like document scanners, optical character recognition (OCR), and intelligent routing systems to digitize and process incoming physical mail. Mailroom automation aims to streamline mail delivery, improve efficiency, and reduce manual labor associated with mail handling.
Records Management
Records Management technologies enable organizations to enforce policies and rules for the retention and disposition of content required for documenting business transactions, in addition to automating the management of their record-retention policies. Records management is a discipline of enterprise content management (ECM) and the term is sometimes used interchangeably.
Scanning Service Provider
Document scanning service providers assist companies with secure digital document imaging. With the help of high-speed document scanners, document scanning services providers securely scan paper documents and manually index them into the business' database.
Discover …
Subscribe our newsletter and stay up to date!